turned_inGerman Habbo
comment0 Comments
---
BaW in der Sommerpause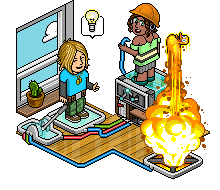 Die Builders at Work sind ein international aggierendes Bauteam. Jedes Habbo Hotel besitzt ein eigenes. BaW-Teams weltweit bauen meist Wired-gesteuerte Spiele oder veranstalten Events wie "Builders Live". Mitglieder jeder Staffel werden nach zwei bis drei Monaten ausgetauscht.
Nachdem Togetherness nun sein Amt verlassen hat wird es, wie in den Jahren davor auch, eine Sommerpause geben. Ab September wird der neue Master of Work feststehen. In welcher Form, ob über Bewerbungsrunden oder Auswahl der Staffs, ist unbekannt.
warningYou have to be logged in to write a comment.